This is a Sponsored post written by me on behalf of Bright House Networks for SocialSpark. All opinions are 100% mine.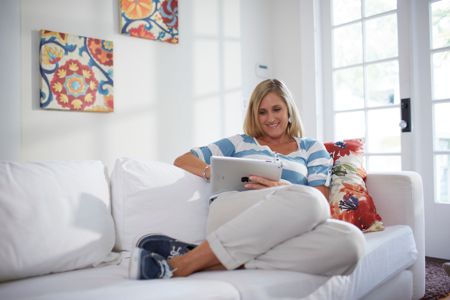 Ahhh, TV. Now that James is getting older and much more into sitting down and watching TV, we have a love hate relationship with it. I love that I can get some peace and quiet and brain space for myself when he is watching a show, but I kind of hate the feeling that I am rotting out his brain. I've come to the conclusion that it is probably healthier for him to watch a few episodes of his favorite show everyday and have a sanier mommy than for me to go slowly crazy at home with him and Rett all day :) Of course, that means that I have to set the example and not watch TV when he is around, especially if they aren't the best things for little ears and eyes (hello, Real Housewives of Beverly Hills!).
Lucky for me, Bright House TV (BHTV) has something that can help me with that! They can Make Any Room a TV Room! They have all inclusive HD TV programming that we can watch anywhere in the house. Using our home's wireless network, after I download the app on my phone, I can watch a few minutes of a show while I am folding clothes in the laundry room and James is none the wiser! Not to mention all the late night nursing I've been doing. I can discretely choose something to keep me awake from over 250 channels in our room without disturbing Anthony.
BHTV is a free service offered to all Bright House Networks video customers. If you are interested or have any questions, you can check it out on their website at BHTV's FAQ. Happy TV watching!